How fast it is McDonalds wifi speed, What kind of Wi-Fi they use, Is it good for gaming or is it faster than starbucks and last but not least why it is so slow are some of the questions that we will be addressing in this blog.
McDonalds is a well known fast food restaurant with branches all over the world. They have been around since 1940 when the brothers Richard and Maurice McDonald started serving the community.
Things got a little more interesting when they introduced the speedy service in 1948 and till today we enjoy the fast, high quality and delicious food.
It's nice to enjoy the food while being connected and in today's blog we will try to find out more about the public WiFi at McDonalds.
| | |
| --- | --- |
| Do a speed test to know your Download speed, Upload speed, Jitter & Ping. | |
| Understand how to read speed results, what upload & download speed is, etc. | |
| Good Download & Upload speeds are essential. Learn what these are. | |
| The different types of internet connections and what is best for you and your home. | |
| Try these techniques to improve your internet speed. | |
What is the McDonald's Wi-Fi speed?
Ever Since 15 January 2010, McDonalds started to provide free Wi-fi to it's customers.
This is a marketing trick to have customers stay longer or keep them coming back. Therefore they could sell more to their customers on a long term basis.
This is a good motive to invest in a fast Wi-Fi network so customers do not get frustrated with big quality internet.
According to data collected by a London based application "Open Signal", McDonalds WiFi speed reaches an average of 4.2 Mbps.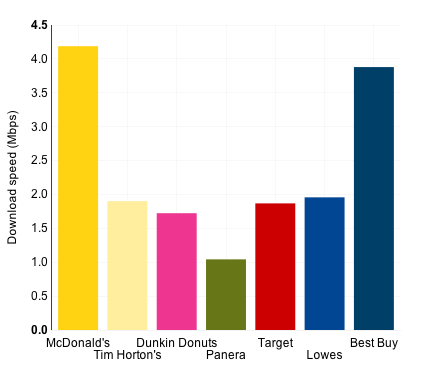 This data is collected from people using the application in the U.S. McDonald's Wi-Fi is almost the fastest Wi-Fi in the U.S when it comes to free public Wi-Fi in the fast food branche.
It's about 4 times faster than the panera chains and the only store to come very close to this speed is Best Buy.
Imagine eating at McDonalds and streaming a movie in HD Quality.
That sounds amazing right?
What kind of Wi-Fi does Mcdonalds use?
McDonald's their internet provider is AT&T.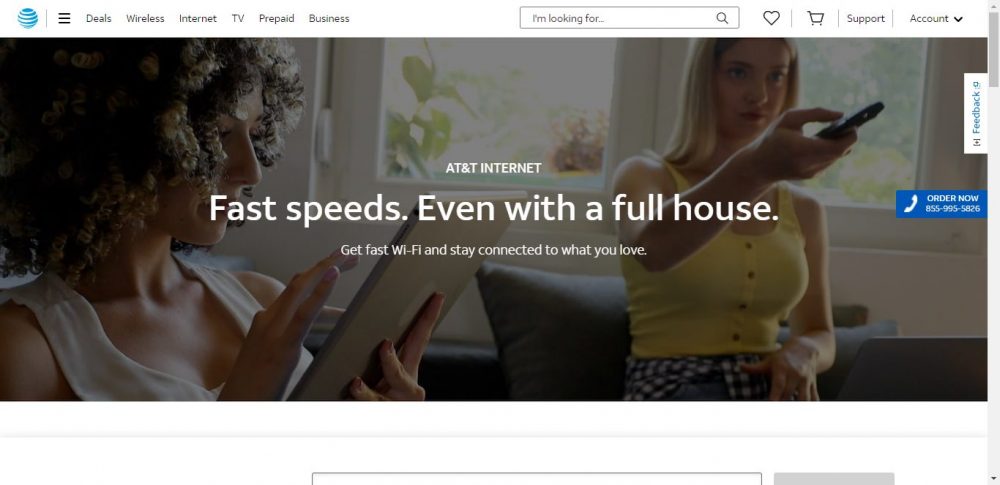 AT&T has hotspot availability for public locations. This means that people can connect their wifi enabled device and make use of free internet without using their own mobile data.
Of course there are some small limitations.
Some of these limitations include not being able to access pornographic content, torrent sites and sites that contain malware.
Another downside to using free hotspots is that the internet is not always just as fast. Many people are connected to these hotspots and may be doing some streaming and downloading.
Therefore you can't trust the speed being constant when using free Wi-Fi hotspots.
Is Mcdonalds Wi-Fi good for gaming?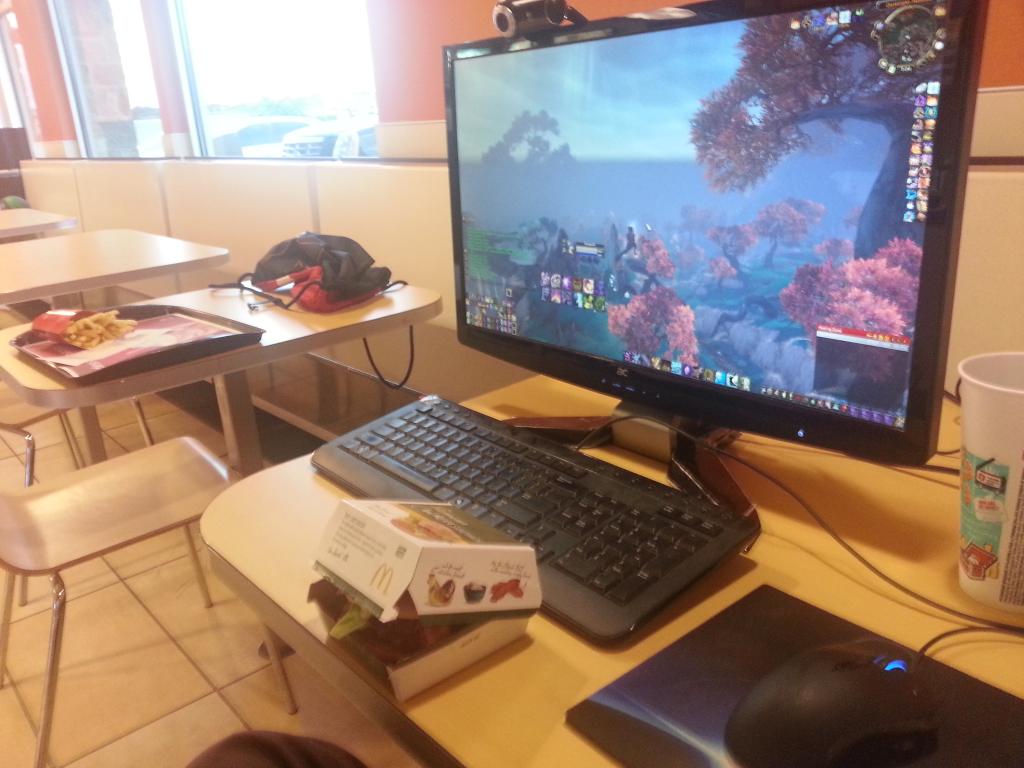 In theory the Wi-Fi at McDonalds is good enough for gaming but we do not recommend it.
The speed and latency of the Wi-Fi is enough to meet the gaming requirements but as we have stated before, the connection is free and used by many others.
This could affect your gaming experience negatively.
Imagine gaming and then somebody suddenly starts streaming or downloading using most of the available bandwidth causing your game to buffer or disconnect.
That sucks right?
Is Mcdonalds Wi-Fi faster than Starbucks?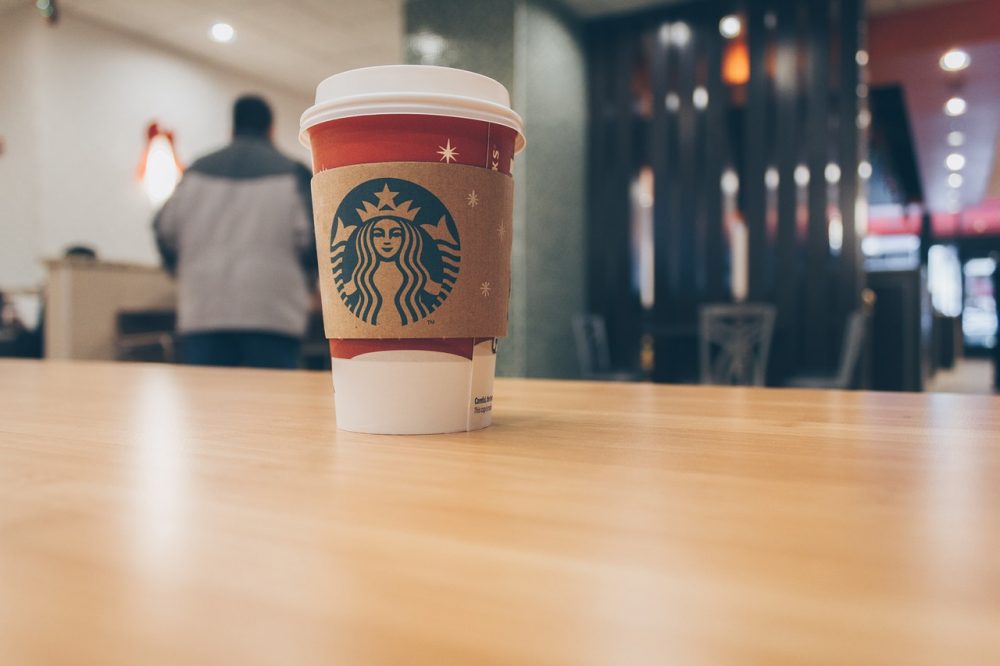 Even though the internet at McDonald's is fast, it cannot be compared to the internet at starbucks.
Starbucks uses google Wi-fi and has doubled their Wi-Fi speed since.
Starbucks their Wi-Fi reaches a speed of 9.1 Mbps.
This speed is good enough to stream a movie in 2K video quality. Pretty awesome right?
So If you ever need to do something really quick on the internet you could head over to a starbucks location to have it done quickly but Mcdonald's is not that bad either if they are closer to your current location.
Why is McDonalds WiFi speed so slow?
Even though their Wi-Fi is almost the fastest Wi-Fi in the fast food branche it is still considered a slow network.
Their network is slow for 2 main reasons. (How to speed up your internet?)
Because the Wi-fi is used as an incentive to keep people coming or have them stay longer, it makes more sense that it is fast enough to keep people coming but slow enough so they can stay a while longer.
The longer people stay, the more they order and the better their sales are.
Another reason why their Wi-Fi is slow is because they share the available bandwidth among their own systems and customers that are connected.
So the more people are connected at the same time, the slower the internet becomes.
If you are in a hurry and you need Wi-Fi fast, make sure to check in at McDonalds when they are not as crowded, because then it's most likely the internet will be very slow.
Another complaint we see often is that connecting to the Wi-Fi can be challenging or that you get disconnected automatically.
You may have trouble connecting because it is crowded or you have not accepted their policy and agreements.
You can also get disconnected because you have been there longer than 60 minutes or you have used over 250 mb data.
You cannot connect to the Wi-Fi hotspot anymore till the next day.
Make sure you use the Wi-Fi efficiently and fast to get your stuff down before you exceed these limitations.
Conclusion
We can conclude that McDonalds is a fast food chain that has been around since 1940 and has improved over the years.
In 2010 they introduced free Wi-Fi for their customers as a marketing trick to get more customers and keep existing customers longer.
This way they can increase their sales.
Their Wi-Fi is almost the fastest Wi-Fi in the fast food branche and is good enough to stream a movie in HD format.
Even though it is that fast it is still not advisable to game, download or stream on the network because it may be too slow to handle those activities.
We have also learned that the internet provider McDonald's uses to provide this free Wi-Fi service is AT&T and that the Wi-Fi at Starbucks is double the speed of McDonalds after they started to use Google Wi-Fi.
If you are in a hurry and need to do something fast on the internet, McDonald's free hotspot would not be a bad idea to try.